Hi y'all! I got my order last week from Wholesale Supplies Plus, they were having a sale on ALL their 2oz FOs and I picked up 7 new ones!!! So this past week I have been soaping up a storm (at least in my world) and have made 3 batches and there will be more to come...
First I made WSP's wild honeysuckle which is smells so soft and realistic and it soaped pretty well too for a floral. I soaped at .5 oz ppo and the sent stayed well not to heavy of a scent. I did a faux funnel pour with green oxide, an annotto infusion and plain batter.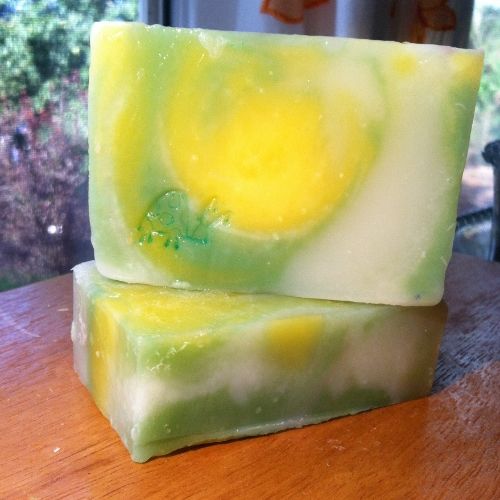 The second is WSP's Home sweet home (used at .5 oz ppo) it is a nice fall scent who's main note is cinnamon, it really reminded me of a nice fall night by the fire. For this FO I had big plans, it was going to look like a fire against the night sky it did not turn out the way I wanted at all the black was poured at a way thicker trace then i wanted it to be and went farther into the "flame" then I wanted it to. To color it I used red and yellow oxide for the flame and black oxide for the sky, finally I dusted the top with gold mica to represent the stars. Besides the design I love this soap it stayed true and strong and I love the spiciness in it. Also just a note for those of you who used it it gelled really fast and almost overheated on me.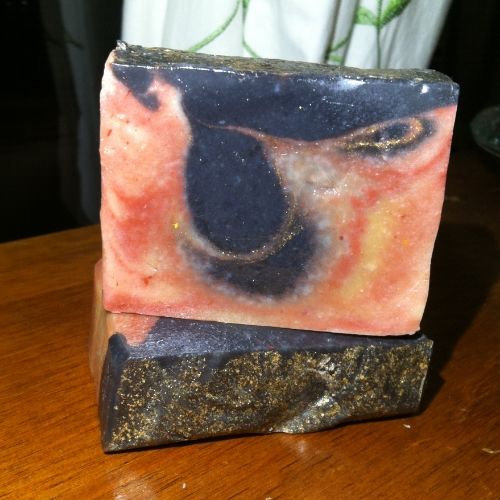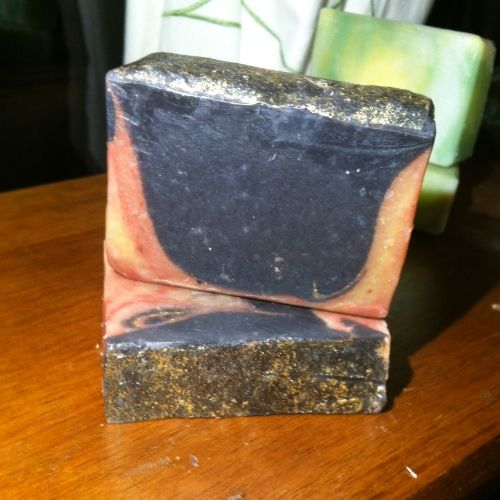 Finally my most recent soap WSP's English Tea Rose(used at .6oz ppo), it is a very realistic rose scent but it's not the old lady rose that you think of it is fresher in my opinion. It stuck pretty well for me but it set up fast like barely got it in the mold fast, luckily I had premixed my colorants and FO in to the oils before adding my lye or else it probably wouldn't have worked. I colored it with a mix of pink sparkle mica and neon pink colorant topped off with a layer of gold mica. Even though it did move fast I love this scent and will make a lot more soap with it, and also it is fine to soap with if your are prepared and are only doing 1 color.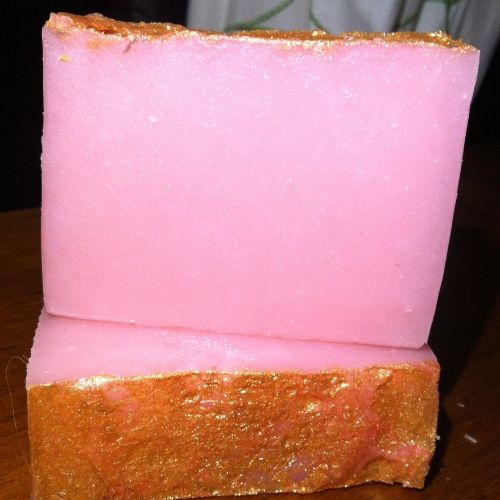 Thanks for stopping by my blog!!!
Plus, I will leave you with a new puppy pic!