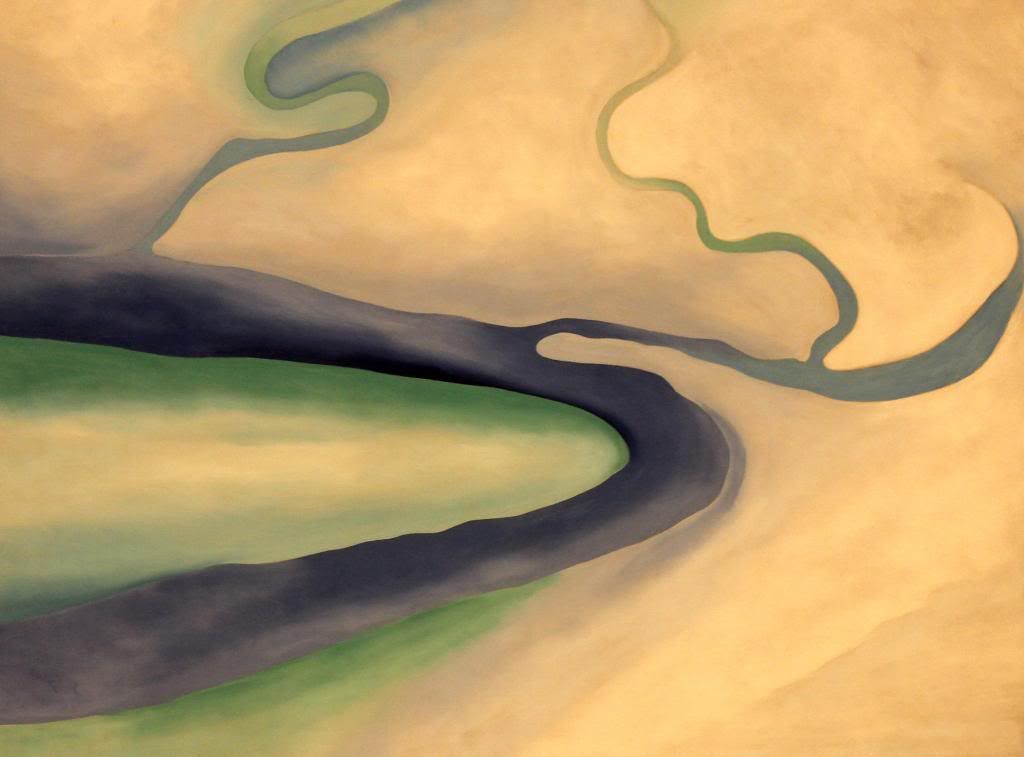 In February I went to NYC to go to the Westminster dog show, and while there went to some museums. We went to the Museum of Modern arts and the Whitney (where I took a ton of pictures) and while going through I found inspiration. It is a Georgia O'Keeffe oil on canvas painting at the Whitney but I cannot remember the name (If you know it comment below). It reminds me of an abstract river type thing.
First decision was the scent, being a river painting I chose a water type fragrance, Aqua Spa (at .5oz ppo) from wholesale supplies plus. When I added it to the soap it formed white spots in the batter which turned brown innthe cured bars. Then colors, I used the four main colors of the painting, off white, dark blue, light blue, and teal. Finally was how to pull off the design, it is hard to explain when I can upload the video and you can actually see what I did I the explanation confusing.
1/4 tsp shimmering sea foam mica + 1/8 tsp cambridge blue mica (1 cup)
1/4 tsp cambridge blue mica (1 cup)
1/4 tsp peacock blue mica +1/8 tsp petunia mica + 1/816 tsp espresso black mica (2 cup)
OK here it goes...
First off is the soap was at a medium to thick trace but mor on the thicker side. First I tilted the mold and added the uncolored batter so it just came to the elevated end. Then came the colors, I added a touch of teal to the shallow end and then probably added an thick layer (1/8-1/4 inch) of dark blue and the same amount of light blue on top. Then while still tilted I added a thick white layer, but making sure a bit of the color was still showing on the shallow end. Then I set my soap down on a level serface and repeated the colors making sure the two colored layers touch on one side. THEn I made sure to add white to one side (the side that was the shallow side) and then added some dark blue to the top of that and covered the whole thing with white. I piled the left over colors on top, which I eventually cut off. Hope this helps?! and I will hopefully get the video up soon!
** video added on 5/14/14**
Thanks for stopping by and happy soaping!