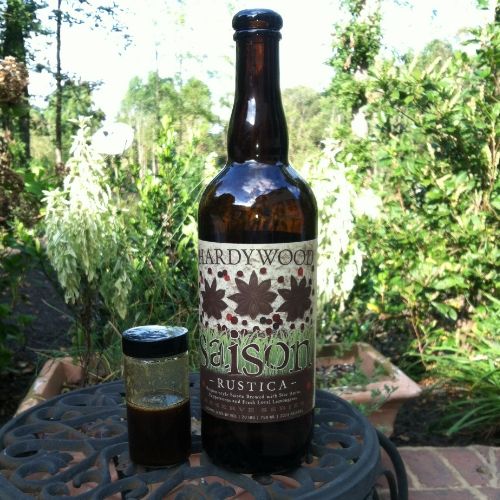 Last month I signed up for the
Bramble Berry's Soap Crafting Club
, which basically every month for a session you get all the ingredients lye, oils (premixed), fragrance/ essential oils, colorants, and even a nice wooden mold the first month to make a recipe from Ann-Marie's amazing new book,
Soap Crafting.
September
was natural colorants (on page 57 for those of you who have the book) and it came with annatto seeds with sweet almond oil to infuse the seeds in and 1.5
oz
fir needle essential oil, which I didn't do because I had other plans... If you have read my blog before you know I have been planning a beer soap for a while now (if not it's
here
and
here
) and this was the perfect excuse to make it! Also there is Amy's of
Great Cakes Soapworks
soap challenge club and this month was the
Dandelion Zebra Stripe, which I have wanted to try for a while so I just mixed all these plans up into one bar of soap!
It is scented with a blend of .5oz of lemongrass EO and .15oz of anise EO (for my 2lb batch) to go with the lemongrass and anise beer that I substituted my water for in my lye infusion. The base is colored with an annatto infusion and the stripes were keeping in the natural colorant theme by being made with cocoa powder (which didn't mix in well) and nettle leaf powder. The soap batter went quicker than I expected it to but luckily I was semi-prepared with instead of pouring or spooning the batter on I put it into two squirt bottles (which I thought was pretty helpful) and the thickening also causes a lot of air bubbles in the top half of the bar of soap.