Spring is officially here and finally feels like it too! Sadly not for long though we may have snow here Tuesday :(. So while in the springy mood I whipped up some Easter soap I have been planing for a while. Before the reveal just close your eyes and imagine a colorful easter egg resting on plush green grass, and you will see what I was going for.
Now how to pull it off.... A while back I decided to decorate cakes anf got all the fancy piping tips and the whole mess of tools. Hidden in the pile of baking supplies was
wilton tip #233
AKA the grass tip! Next up for this soap was an
egg mol
d, after looking extensive I found the perfect mold at Joanne's (also made by Wilton) and also cute rabbit and flower molds to boot!
I made some melt and pour eggs, bunnies, and flowers in multiple colors to put on to of my cold process soap. I dusted mica on some parts of the MP soaps for accents (don't pat attention to that awful orangey yellow bunny, he got trashed).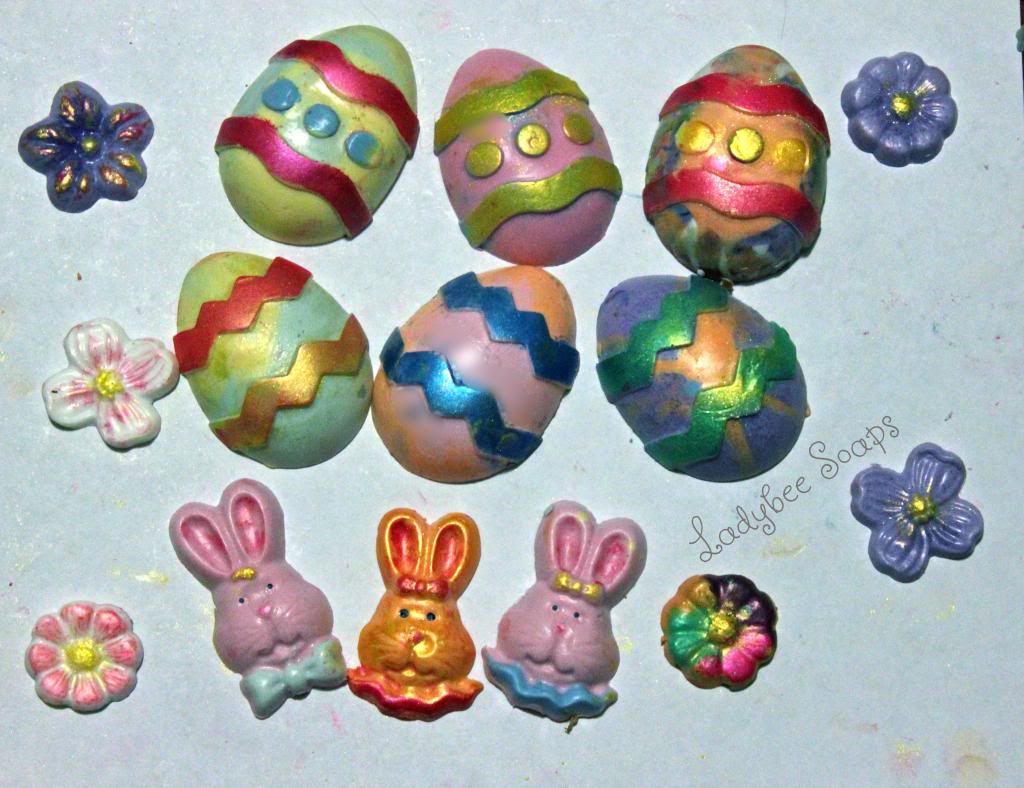 The most important aspect of the soap is next, the colors, design, and scent. First off I scented the soap with cranberry fig, described as a fall scent but is bright, fruity, and springy to me, I may call it easter fig? I colored with soap with micas, and did a simple ITPS (in the pot swirl) of yellow, pink, and purple as a base for my nice bright green grass. I will note that I used pink sparkle mica from Wholesale supplies plus and it faded so bad in my CP that after adding 2 more teaspoons of mica I finally added some neon pink to get a nice color.
Pink sparkle mica + tutti fruttie neon pink (neon pink no in the pink above)
Purple rainbow mica
Yellow rainbow mica
Green rainbow mica
I will also show you the colors mixed into un-soaponified soap to show you 1. how the green morphed in lye active soap(it did change to original color) and 2. how much the pink sparkle faded before I finally added the tutti frutti neon pink to brighten it back up.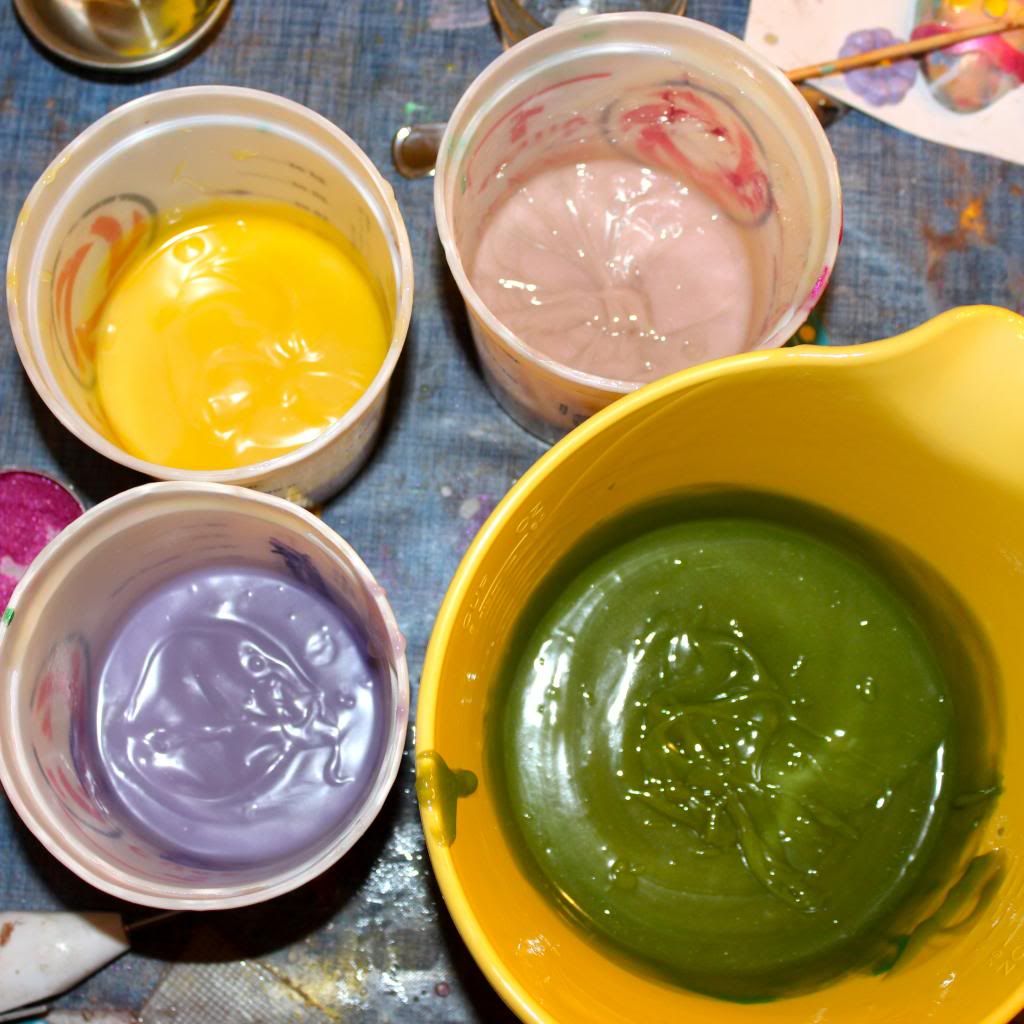 After I poured the swirled base into my slab mold I stick-blended the green to a thick trace anf put it into a piping bag with the grass tip. I piped the thick batter (should have waited longer though) over the whole surface, then added the M&P soaps on top.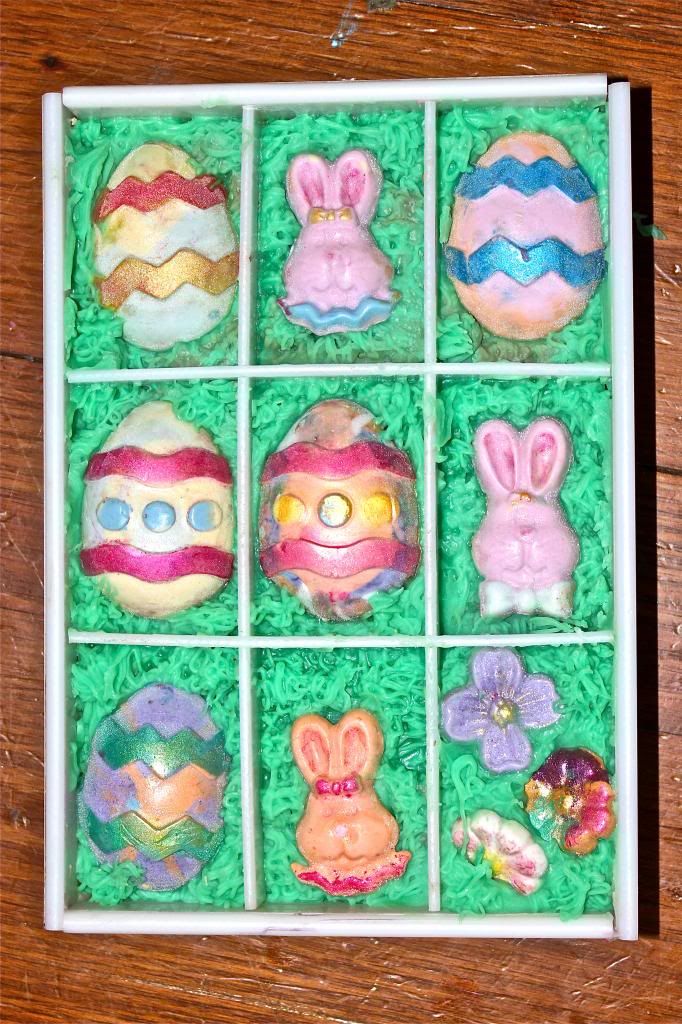 Finally Rosie's dream Easter soap cut! ***insert dramatic drum roll***
Thanks for stopping by and happy soaping!