February's soap from the Soap crafting club (see posts on previous months' soaps
here
,
here
, and
here
) was a simple but fun design, what made this batch special is that it has pureed avocado to add some extra moisturizing power to this soap!
Now onto my version of the soap, it was scented with wasabi fragrance oil (.7 oz per pound of oil). I did not expect to like it but when i opened the bottle I was pleasantly surprised, it is a very green, bright fragrance perfect for spring! A final note on this fragrance is it moved quickly as you will see in my video, but it is still workable for maybe an in the pot swirl, but I would suggest keeping it to either one color or some basic layers.
Next up is my personal favourite part the
co
lo
rs
! This was a simple layered batch with three colors, green, lime green, and yellow. while personally I do not like yellow oxide I think it is very fitting for an avocado bar since it is kind of like the color in the center of an avocado. Finally here are the colorants and how much I used for my 5 lb batch (each in 1 Tbs of a light oil).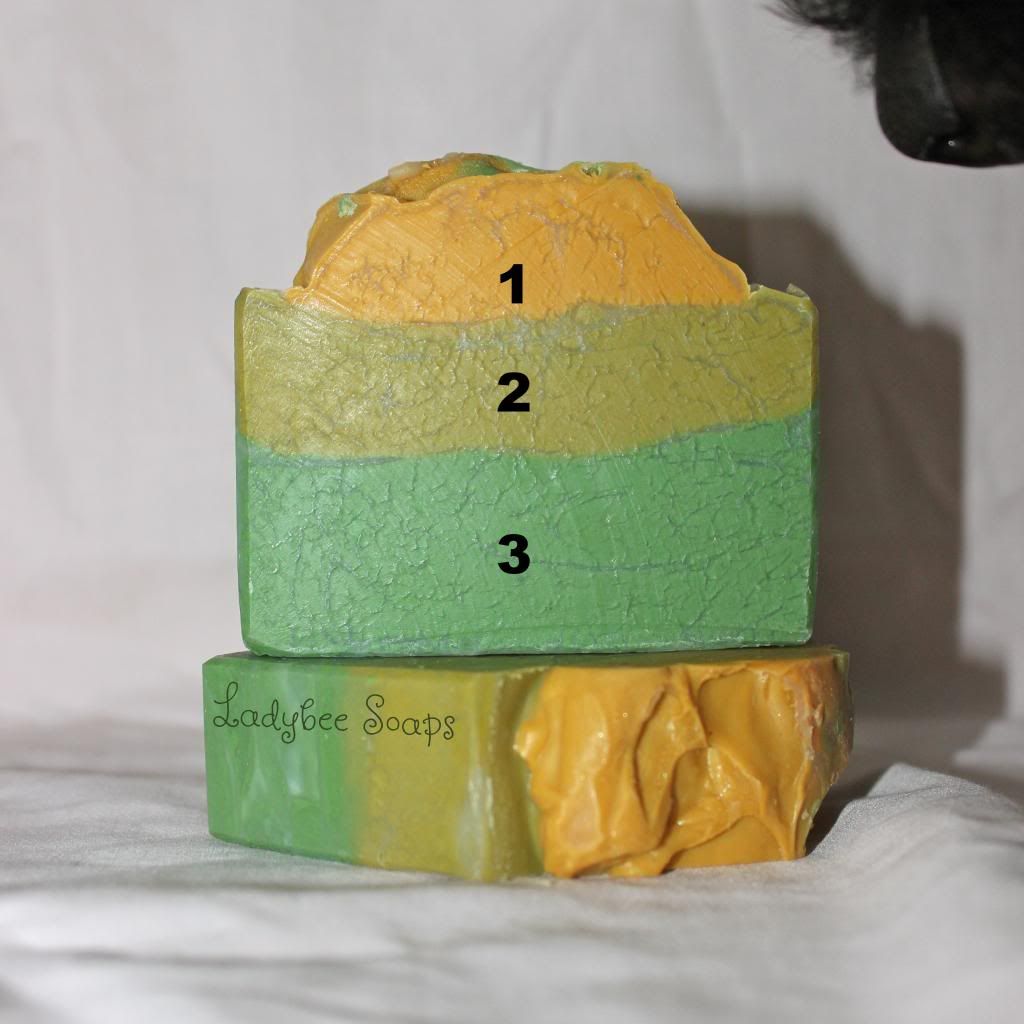 complete with a puppy nose!
Yellow (two cups)- 1 tsp yellow oxide
lime green (four cups)- 1/2 tsp green chrome oxide + 1 tsp yellow oxide
Green (four cups)- 1 tsp green chrome oxide
The reason we used only two cups of yellow is because that the layer doesn't go all the way across, instead it is dolloped right down the center like whipped cream, then texturized. If I do this soap again I might pipe the yellow down the center, wouldn't that be gorgeous?
You will notice that these bars have crackles in them, these are called glycerin rivers and can be caused by many things such as over heating and sometimes when you use titanium dioxide, there are more thing that can cause it that i just cannot remember for the life of me. I am not sure what caused it in my soap but I am thinking it has something to do with the avocado and it overheating a bit from the sugars in it (if you think you know what caused it please comment below!!). I actually really like the look, it's like the crackled antique furniture.
(I also notices that Amy from Great Cakes Soapworks' version is also crackled, you can see hers
here
)